M.A.QAISER INDUSTRIETECHNIK GMBH has been established in 1984 in Lüneburg (Northern-Germany) as an international supplier of Power drive belts and conveyor beltings. With a long standing  experience in global trading of rubber products, in 2005 the company registered its own trademark under MAQBELTING™. Through warehousing operations within the metropolitan area of Hamburg and in close proximity to Hamburg harbour, M.A. Qaiser is well-connected to international markets and has proudly grown to be among the largest rubber stockist in Europe.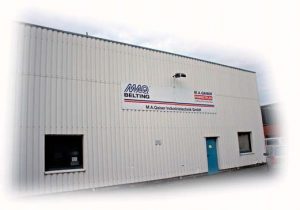 Today in 2019, with over 35 years of experience and expertise in technical rubber products and power transmission, we are the leading European stockist of power drive belts and technical rubber products with satisfied customers all around the globe. M.A. Qaiser exports regular container loads of belts also into complicated markets and is well versed in the intricacies of international customs and import regulations. Among other special stocks we offer belts made of rubber/PU, rubber conveyor beltings, PVC/PU conveyor & transport belting, technical rubber sheets/shoe sole sheets, rubber hoses, hose fittings & clamps etc. 
Why MAQBELTING®? – We Know Rubber. And We Stock It.
The international market for technical rubber products is tough and competitive – Nonetheless, we are convinced that good quality and competitive prices must go hand in hand. If you are looking for technical rubber stock in wholesale quantities and top condition – M.A. Qaiser is the right partner for you. M.A.QAISER carries a large and diversified inventory stock of belts made by Continental ContiTech®, Roulunds Roflex® and other well-known/high quality brands and manufacturers. We purchase high quality belting and rubber products in large quantities, store and package them professionally and can export at very competitive prices. Our purchasing practices, technical know-how and long-time experience in the market comprise our value to you – Competitive Prices. High Product Quality. Short Lead Times.
Looking for something in particular or not yet convinced? – Get into contact with us!